March 2021: Release of GO2cam V6.08
GOteam is proud to introduce the new GO2cam V6.08, released on March 1st 2021. 2020 has been challenging for everyone, nevertheless our development team has fulfilled its goal and this new version features a long list of new functions. After reading this non exhaustive list, you will acknowledge that GO2cam International is the most innovative CAM software editor.
The multi-patented machining cycle, millyuGO® is now available on 2D from Mill Classic, on wire frame, Quick Solid Milling and planes. The high-performance roughing cycle based on constant tool engagement provides the highest material removal rate in the market.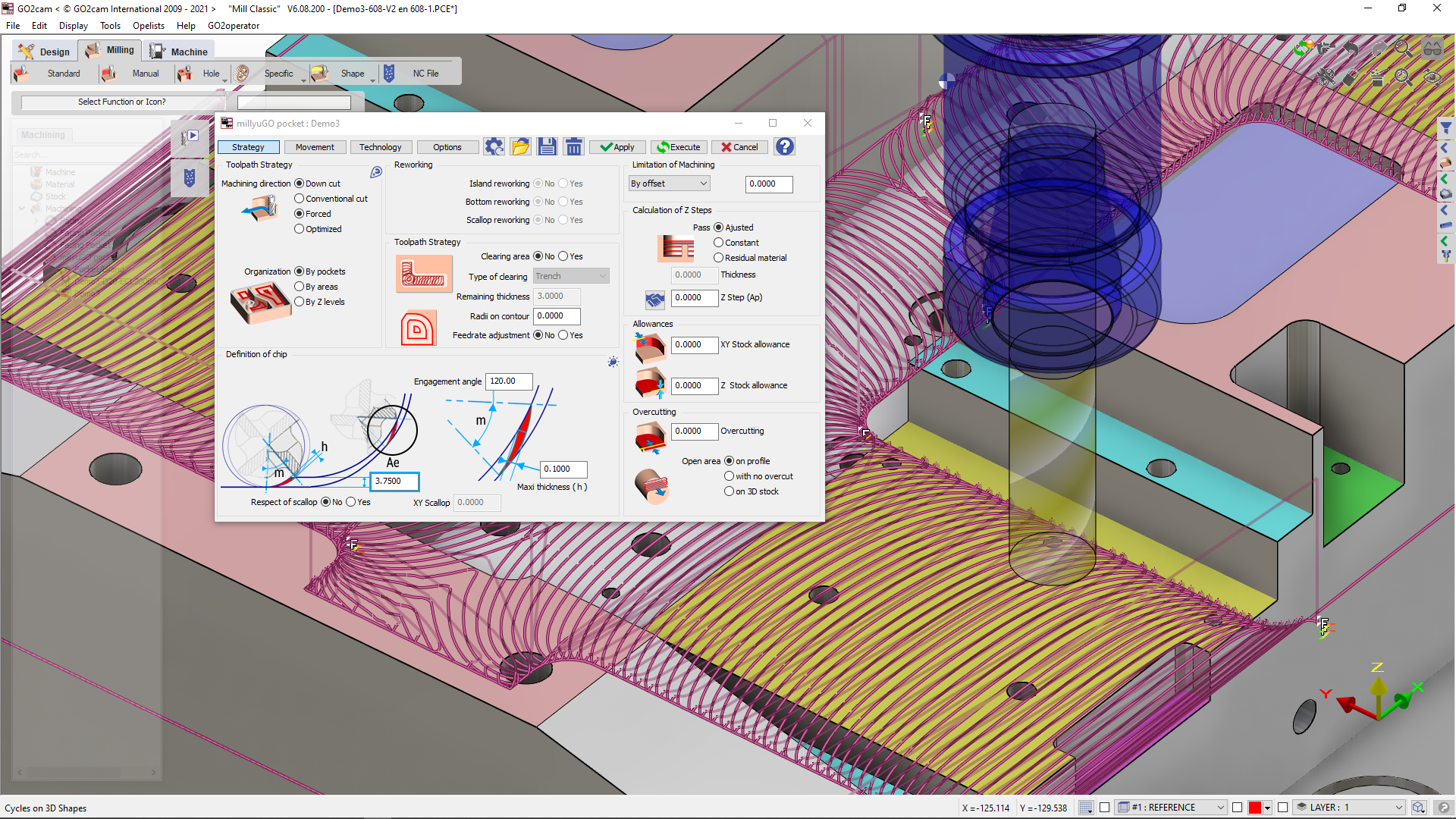 Multi Parts Machining (MPM) 3 & 5 axis
Multi Parts Machining module has been significantly improved. It is now much more intuitive and easier to use and includes several major improvements.
MPM allows to increase production and reduce machining time by using different optimizations (manual to fully automatized) depending on the constraints (minimization of distance, tool change, machining planes change).
The new MPM module for 3-axis machines will bring you significant productivity gains.
This function allows to use chamfering tool or spot drill tool to make a chamfer on the complete part in a single operation.
All sharp edges of the part are automatically recognized and a gouge free toolpath (vertical walls for example) is generated taking into account the tool holder.
This functionality will bring significant productivity gains to your workshop.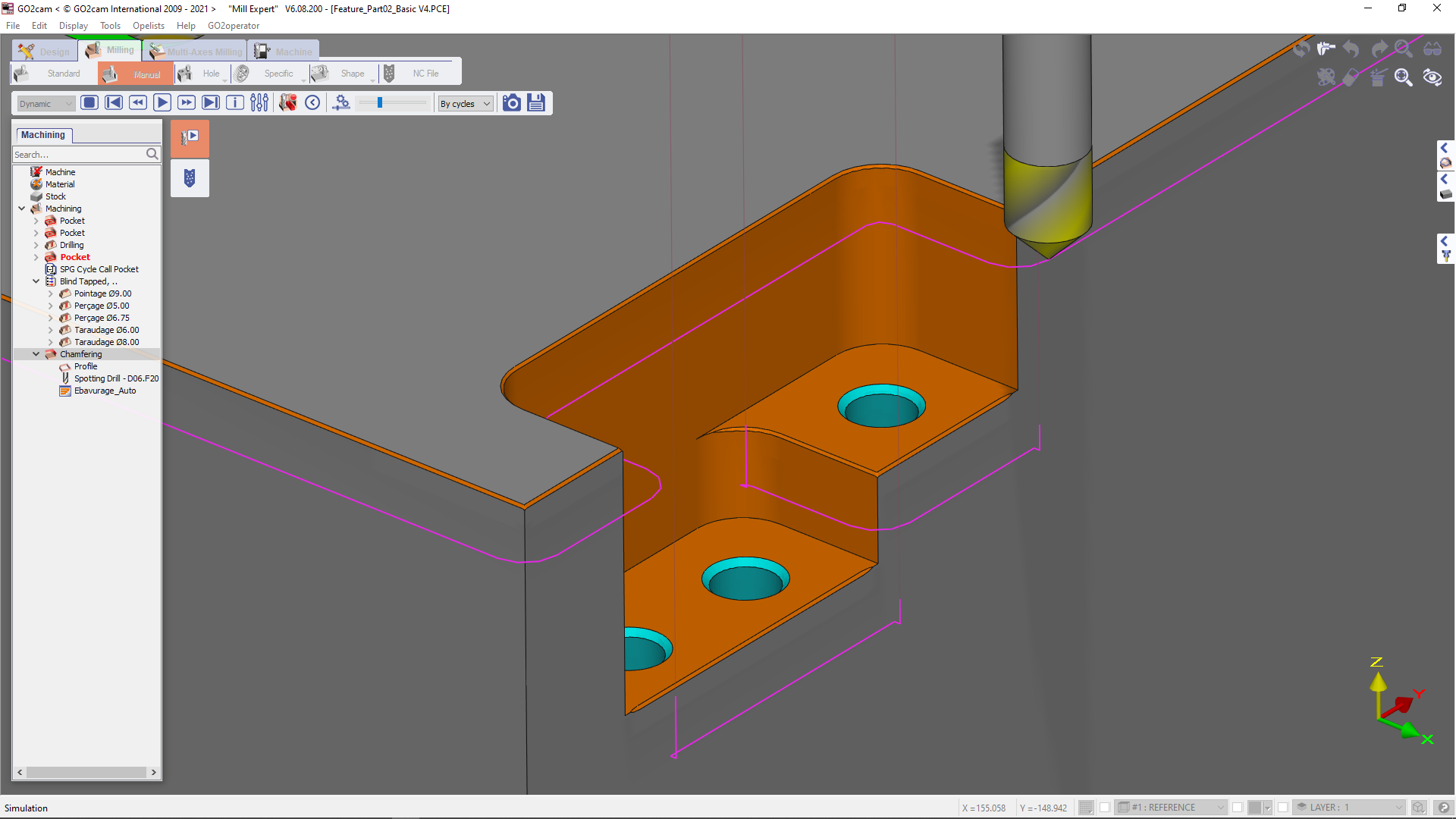 Pocket machining Features
Another major innovation of V6.08 is the appearance of pocket machining features. GO2cam analyses the geometry of a part and creates machining features. This enables to automatically create a toolpath even if the shape includes multiple islands and subpockets.
Together with Tool Finder (see below), complex pockets are now programmed and optimized with a few clicks.
GO2cam integrates a new function to find the tool that better fits the cycle. An analysis of the geometry determines the appropriate diameter and corner radius of the tool and filters the database accordingly.
This nice feature helps the user to find a right tool instantly.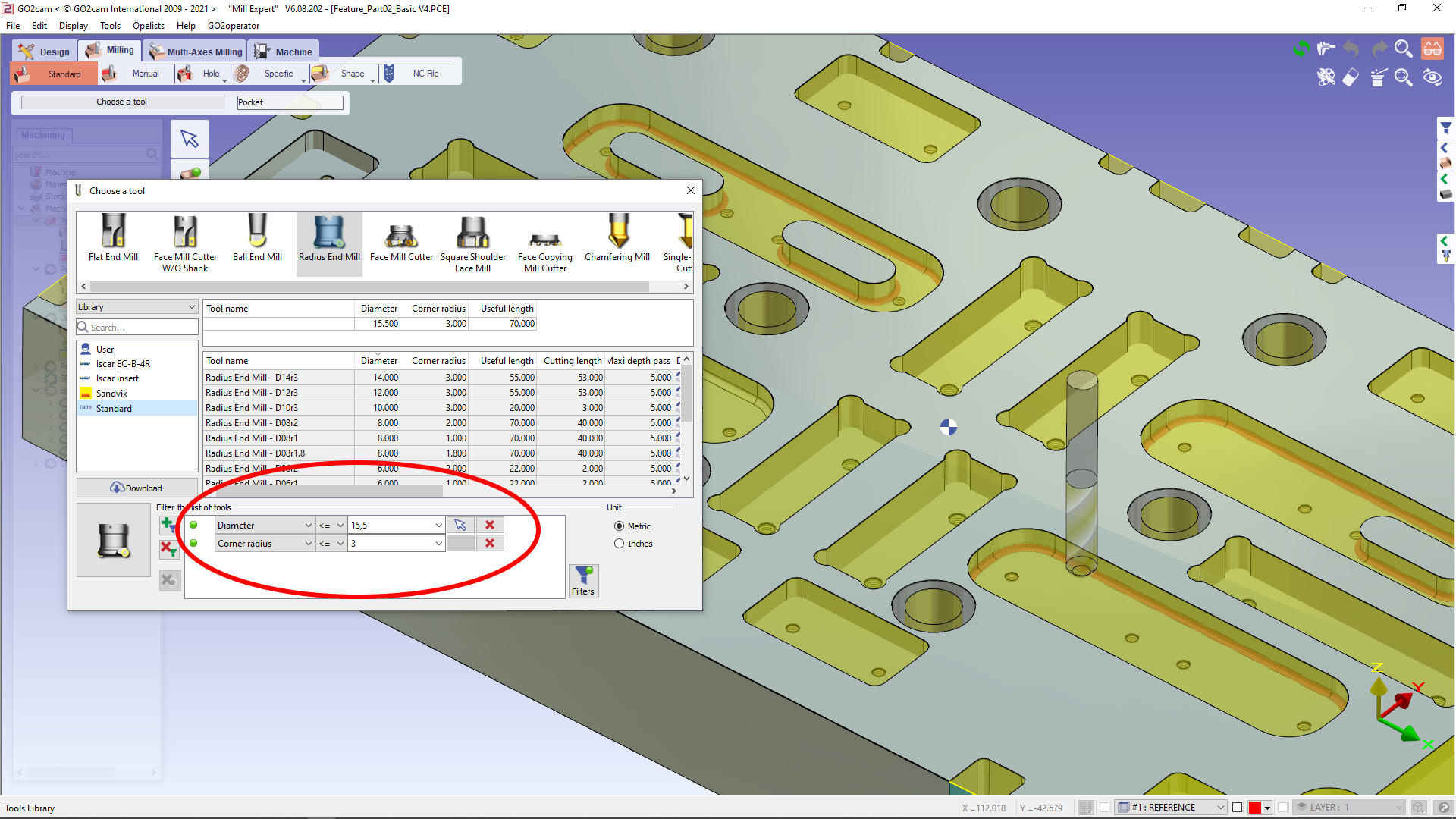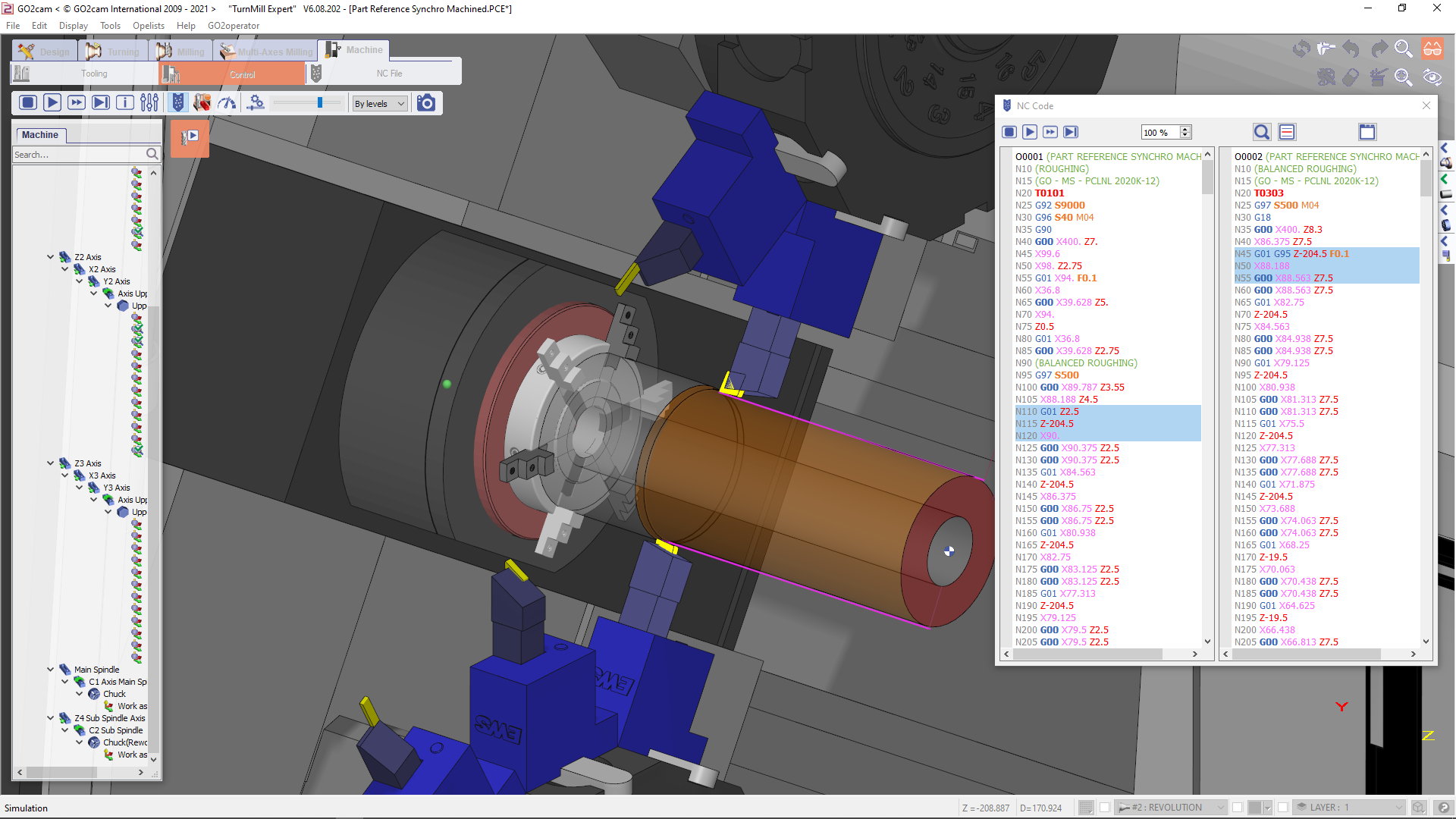 Better visualization of information, syntax coloring,…This great improvement brings you to another level of clarity of a NC file.
Visualization is adaptable your user profile and can be changed according to the type of controller (G Code, APT, Heidenhain, Siemens, Fanuc,…).
NC Viewer features a search field to rapidly find a specific syntax, allows to get all the needed information about the tool (spindle speed, speedrate,…) And also gives you a possibility to display different channels in the same window (in particular for the Swissturn or MillTurn machines).
A new 5-axis rolling path is implemented in the 4-5-axis module. This GO2cam certified toolpath only requires the selection of a single profile and GO2cam will detect the appropriate surfaces for the tool orientation.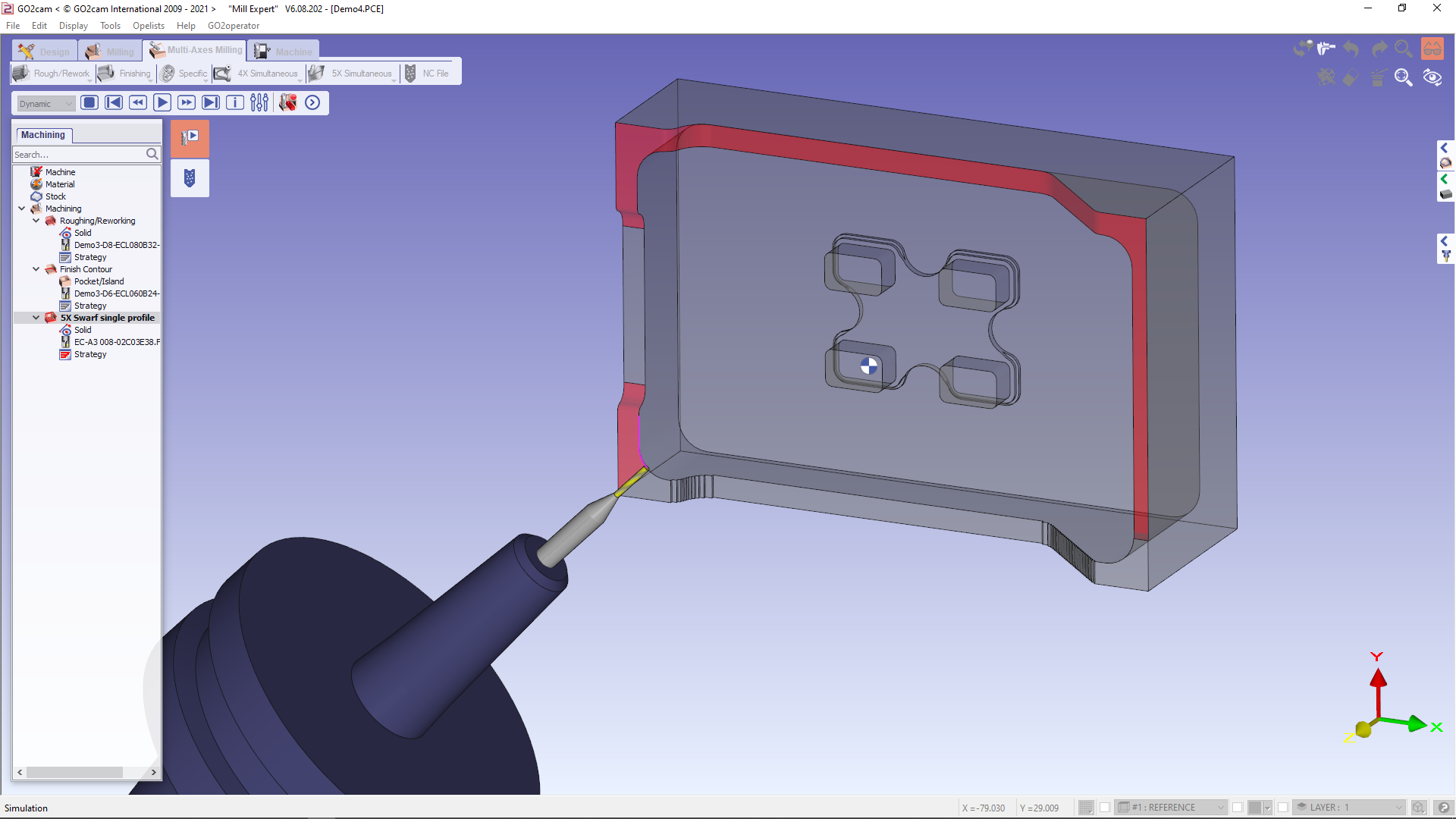 Nesting of parts machined with GO2cam
The software now offers you the possibility to nest parts machined with GO2cam. Optimization of machining cycles and subprograms management are obviously managed.
Overall, there are some 150 new features and improvements that we are offering for this new 6.08 version.
Contact us for more information!