GO2cam Download Trial version
Experience GO2cam for free with our GO2cam Trial version.
By downloading the trial version, you will have full access to GO2cam for 1 month. This allows you to test its features and evaluate its potential for your business, without any financial commitment.
To download the trial version of GO2cam, please follow the simple steps below:
Click on the FREE DOWNLOAD button,
Fill out the form with your contact information,
After submitting the form, you will receive two emails: the first one containing the download link and the second one with the license file and installation instructions.
Please note that the trial version is intended for personal, non-commercial use.
Découvrez GO2cam gratuitement grâce à notre version d'essai de GO2cam.
En téléchargeant la version d'essai, vous aurez un accès complet à GO2cam pendant 1 mois. Cela vous permettra de tester ses fonctionnalités et d'évaluer son potentiel pour votre entreprise, sans aucun engagement financier.
Pour télécharger la version d'essai de GO2cam, veuillez suivre simplement les étapes ci-dessous :
Cliquez sur le bouton FREE DOWNLOAD,
Remplissez le formulaire avec vos informations de contact,
Une fois le formulaire envoyé, vous recevrez deux e-mails : le 1er contenant le lien de téléchargement et le deuxième le fichier licence ainsi que les instructions d'installation.
Veuillez noter que la version d'essai est destinée à un usage personnel, non commercial.
Installation
To properly install the demo version, please carefully follow the steps bellow.
Step 1
1 – Right-click on the GO2cam_Setup_V610.zip and select "Extract all…". Unzip the file in a directory ('C:\Users\username\Downloads\GO2cam_Setup_V610' by default)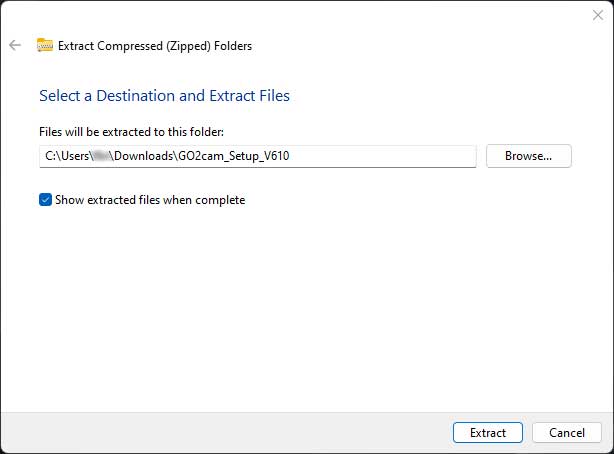 Step 2
2 – Open the corresponding folder after unzipping the file, double-click on the setup.exe file of the '\CDROM-GO2cam\' subfolder
Note: You may receive a message indicating that Windows has protected your PC. If that's the case, choose 'More info' and then select 'Run anyway'.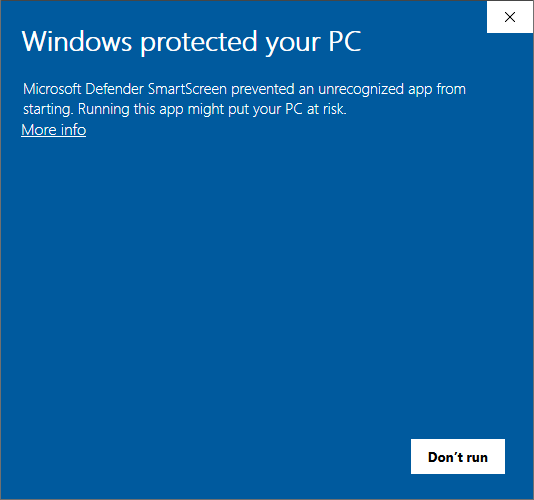 Click on 'Next'
Step 3
Note: The Microsoft Visual C++ Redistributable 2022 X64 package is required for the proper installation of GO2cam. The installation of the package may take a few minutes.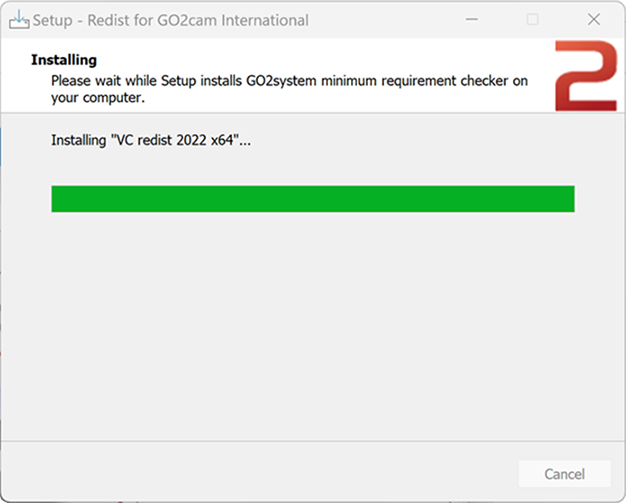 After installing "VC redist 2022 X64", please restart your computer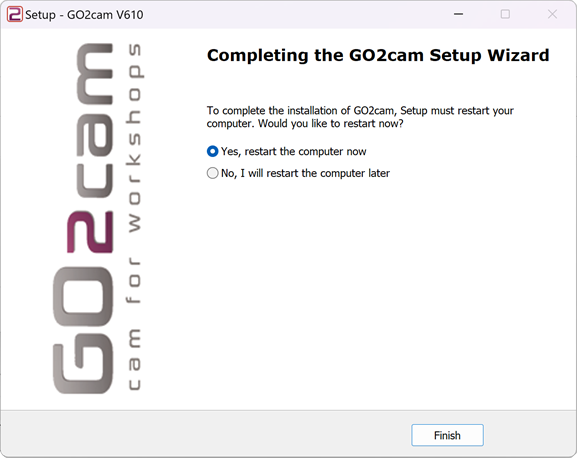 3 – After restarting the PC, run the setup.exe file again from the subfolder '\CDROM-GO2cam\'
Select language, and click on 'OK'
Step 4
4 – Accept the License Agreement then click on 'Next'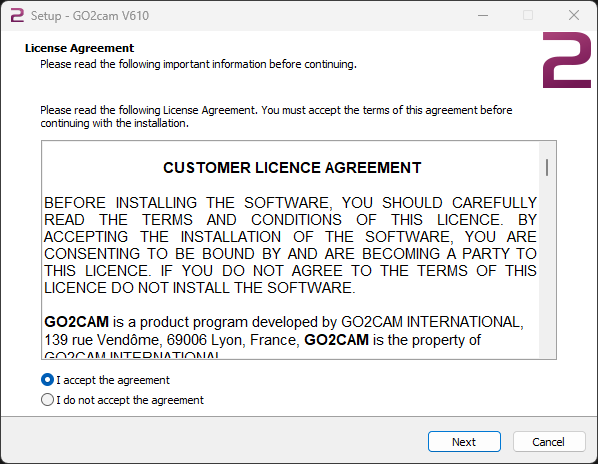 Step 5
5 – Select "Destination location" ('C:\GO2cam_Intl\GO2camV610' by default) then click on 'Next'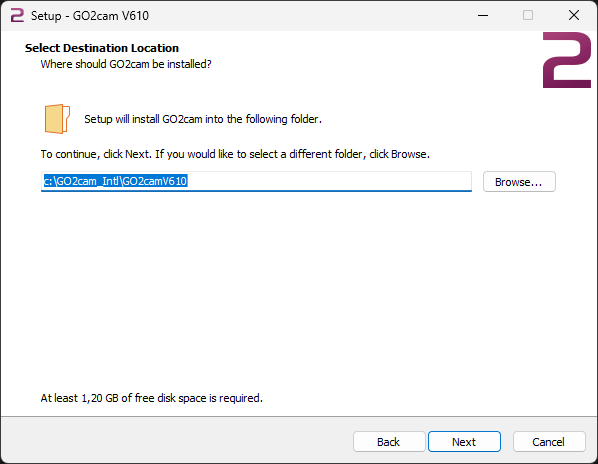 Step 6
6 – Select Start menu folder (GO2camV610 by default) then click on 'Next'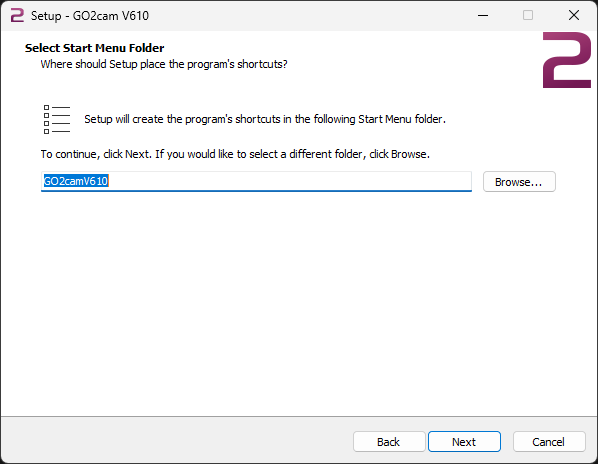 Step 7
7 – Click on 'Install'
Step 8
8 – At the end of Installation, uncheck the 'Run GO2cam' box and click on 'Finish'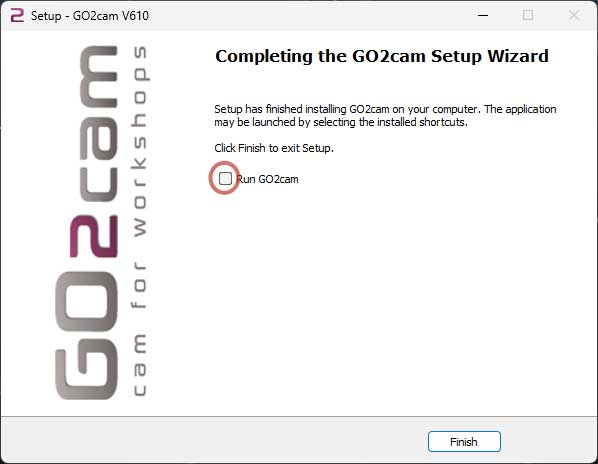 Step 9
9 – The installation of demo and example files starts, click on 'Install'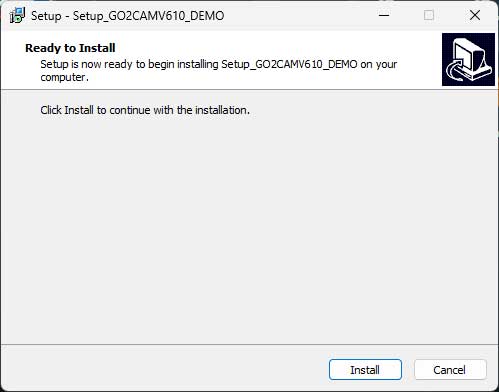 Step 10
10 – Simply copy the code attached to the second email you received into your GO2cam folder ('C:\GO2cam_intl\GO2cam610' by default)
You can run GO2cam
Note: Depending on your location in the world, launching the version may take some time (license query)